Star Style Scoop: Paris Hilton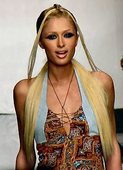 Celebrity Fashion

from Casey Lewis

Star's Name: Paris Hilton

Acting Credits: "The Simple Life" series (Season 4 is on the way), memorable Carl's Jr. commercial, "House of Wax"

Red Carpet Style: Paris doesn't do anything half way–especially when photogs are around. She chooses only the brightest of colors, boldest of prints, and barest of silhouettes, then accessorizes with sky-high stilettos and sparkling diamonds.

Casual Style: Hip "sweat suits" work well for daytime activities; fitted hoodies, slim sweatpants, and flippy skirts by Juicy, Primp, and 2 B Free are personal faves. Other specifics: denim is a true rarity, unless it's in the form of a mini and anything lingerie-inspired (from lace-trimmed camis to negligees) is standard Paris ware.

Favorite Designers: Roberto Cavalli, Versace, Sass & Bide

Hair: Unlike her now-brunette sis, Paris is never seen without her trademark bleach blonde fringe. Whether styled in numerous ringlets, a glamorous updo, or a Barbie-esque ponytail, it's consistently super-long.

Makeup: Though Paris's [spray] tan complexion requires minimal makeup, she loves to experiment. When she isn't decked out in heavily made-up eyes or overdone blush, she favors glamorously smoky eyes, glossy pink lips, and bronzed cheeks to boot.

Notable Quote About Fashion: "The only rule is don't be boring. Dress cute wherever you go." from her book, Confessions of an Heiress: A Tongue-in-Chic Peek Behind the Pose.

Get the Look for Yourself: Never shy away from the bold. Choose a bright dress or camisole + skirt combo, then top off with glitzy stilettos. Adding a down-to-earth hoodie and blazer will make the transition from Hollywood to your town much smoother.