The mood is decidedly creative and feminine for Fall 2005, with everything from big skirts to shiny gold metallic being shown on the runway.
From a continued interest in boho chic (embroideries, layers, chunky jewelery) to the new proportion (slim or cropped top with a full skirt), there are still plenty of pretty and wearable clothes to keep you interested this season.
Monique Lhuillier's intricate, but still streamlined coat (above) is a great example of how fur and luxe details can work together for modern elegance.
Pretty Coats
Coats have become increasingly important in recent years as stand-alone fashion statements.
This fall look for rich details, belts, intricate detailing and fur trims to complete your topper.
The coat, above from Cynthia Steffe, shows a great twist on an everyday tweed coat.
Big Skirts
Carrying over from Spring, the big (also called full or circle) skirt takes fashion in a new direction with a renewed interest in a full-on-bottom silhouette.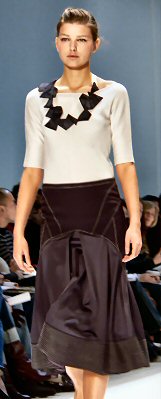 Modified big skirts, like the one above from Richard Chai, used more restraint and slim lines through the hips which should make them ultimately more wearable than the fuller styles.
Short Pants
Wide-legged pants with beautiful drape were shown as a great (and practical) alternative to the big skirts.
Paired with everything from dusters to vests to silky blouses, these fuller, fluid pants are a great item that you'll want for fall.
Wide pants -- like those shown from David Rodriguez above -- require waist definition and a cropped or slim top to keep from looking sloppy.
Cropped Jackets
The perfect topper for fuller bottoms -- skirts or pants -- is the decorative cropped jacket.
Portrait collars and a boxy cut give great structure and line to the cropped topper.
The lush color of Tracy Reese's cropped jacket, above, make it a natural for everything from eveningwear to weekend.